3-6 Diploma Course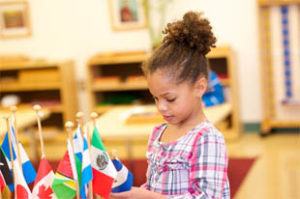 The Children's House (3-6) Diploma Course covers the application of the Montessori Method of education for children from 3 to 6 years of age. Theory lectures create the foundation for a Montessori teacher's practical work and are referred to throughout the duration of the course. The lectures focus on child development, Montessori theory and philosophy, practical aspects of Montessori education and schools as communities. Students are expected to take thorough notes of all theory lectures, for these will form the basis of their Theory Album.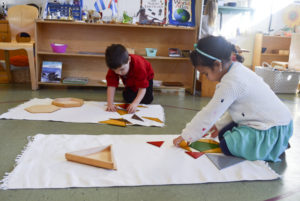 The majority of the course is dedicated to demonstrations of the Montessori materials. With each demonstration, there will be a discussion of related theory, such as the age of the child, the purposes of the material, extensions and the sequence within the scope of the materials. Student's notes on the technique of the presentation, along with all of the related information will form the basis for their individual practice with the materials. Refinement and the completion of these notes form the basis for the student's original reference albums in each of the four areas: Practical Life, Sensorial, Language and Mathematics.
Time is scheduled during class hours for students to practice with the Montessori materials under staff supervision (without actual children) to refine their technique in presenting materials and to clarify notes that will be used to create their albums.
Material Making
Students will be required to make several hand-made Montessori materials that are not readily available from manufacturers. This gives students the chance to apply the principles they are learning for the preparation of the Montessori environment.
Observation and Teaching Practice
Observation and practice teaching in are another aspect of the course which allow students to apply their coursework in AMI Montessori host classrooms. During observation, students spend a minimum of 90 hours observing the children's interactions with the materials and each other. During practice teaching, students spend a minimum of 120 hours in their host classroom, presenting lessons to children under the supervision of an AMI primary-trained host teacher. For students enrolled in a summer format course, observation and practice teaching are organized by the student and completed between summers during the intervening academic years.
Examinations
Comprehensive written and oral examinations are given at the end of the course to verify that each student has met the standards of the Association Montessori Internationale.