Professional Development and Community Events
Future professional development workshops are being scheduled for the upcoming academic year.  We thank you for supporting the Training Center by spreading the word and attending these events.
Upcoming webinar this summer with details coming soon.
The Alumni Webinar Series highlights the work of MTCNE Alumni in their communities while sharing it with the broader and global Montessori community. 
There is a nominal fee of $20.00 US required to attend each webinar.  One hundred percent of proceeds from the Alumni Webinar Series will go straight to the MTCNE Scholarship Fund.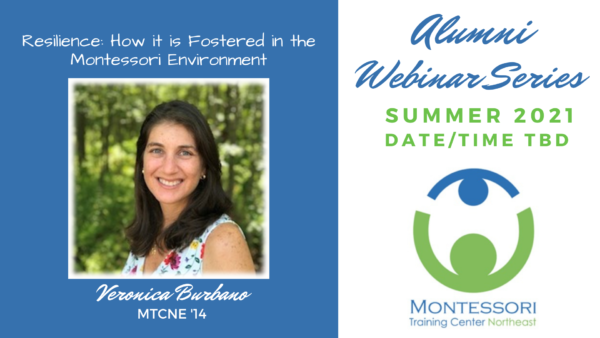 Veronica Burbano, MTCNE '14, will discuss the concept of resilience and how is fostered in the Montessori environment. She will answer the following questions:
• What is resilience?
• What are the characteristics of a resilient individual?
• How does the Montessori Environment support the development of a resilient individual?
Veronica Burbano has been involved in Early Childhood Education serving in different roles for the past 15 years. She initially worked at the GVSU Lab School in Michigan as an early childhood educator for two years. She received her Primary AMI diploma from MTCNE in 2014 while working as a Spanish specialist and assistant for the Amherst Montessori School in Massachusetts, once her training was completed, she developed and open a bilingual program for one of the Casa de Niños at this school. She served this community for over 10 years, guiding children, supporting families, while mentoring assistants and new guides. Veronica holds a Bachelor of Science in business and marketing with a Minor in organizational communication from the Universidad San Francisco de Quito and an M.Ed in early childhood education from Grand Valley State University. Veronica is currently participating in the AMI Training of Trainers program.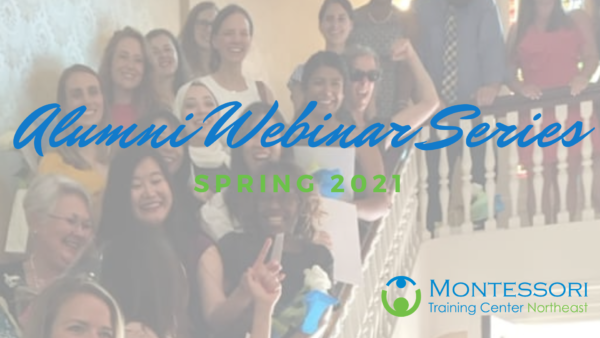 Regional Refresher Course
REGISTRATION OPEN
There are two registration periods to be aware of:
AMI Diploma Holder REGISTRATION (OPEN NOW)
GENERAL REGISTRATION (opens Oct. 15, 2021).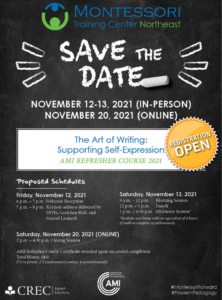 MTCNE is hosting an Association Montessori Internationale (AMI) Refresher Course in Hartford, CT.
November 12, 2021 6:00 PM – 8:00 PM at MTCNE
November 13, 2021 9:00 AM – 4:30 PM at MTCNE
November 20, 2021 2:00 PM – 4:30 PM (ONLINE)
The Refresher Course is intended to provide AMI Diploma holders fresh perspectives and insights into the work they practice in the classroom daily. Gretchen Hall and Gerry Leonard, MTCNE's very own Directors of Training, will be prepared to guide attendees through a deep dive into The Art of Writing: Supporting Self-Expression.
This Refresher Course will kick-off Friday evening in Hartford, CT with a Welcome Reception and Keynote Address.  Lunch and mid-session refreshments will be provided on Saturday.
The Refresher Course is open to all, though the AMI Refresher Course Certificate will only be awarded to AMI Diploma holders who complete the course requirements.
Course Fee is $185.00 per person.  Space is limited.
GENERAL REGISTRATION
no diploma required
Registration links available October 15, 2021

Urban Living in the Age of Climate Change: Sustainable Local Development in Hartford and Connecticut
A Center for Montessori Studies Event
Postponed until Winter/Spring 2022 
FREE | Select Locations in Greater Hartford | Sponsored by the Center for Montessori Studies @UHartford; Trinity and UConn, Hartford
As the health and well-being of the our community is our top priority, we have decided the current Coronavirus (COVID-19) situation requires we postpone our Urban Living in the Age of Climate Change: Sustainable Local Development in Hartford and Connecticut from March 26 & 27 2020 to a future date in Fall 2020. We are grateful for the diversity of people from Connecticut communities bringing interdisciplinary perspectives and from across multiple generation slated to contribute.
We will continue to monitor the situation and continue to communicate with our presenters, attendees, and stakeholders by email and with updates on our link http://bit.ly/Environment-March26-27. If you have any immediate questions please feel free to contact any of us: Dr. Ken Foote (ken.foote@uconn.edu), Dr. Paige M. Bray (bray@hartford.edu), or Dr. Garth Myers (garth.myers@trincoll.edu).
Climate change is now being felt widely around the world, from the global to local scales.  Economies and societies are being challenged to respond to disruptive changes including rising sea levels, increasing extreme and unpredictable weather patterns, and events that will affect human health and well-being through air pollution, heatwaves, and risks to food security. These events raise issues of equity and social justice as the effects of climate change spread unevenly around the world.
A multi-generational event offering experiential site-visits, this symposium will focus on the implications of climate change for urban living in greater Hartford and urban areas across the state. Learning together, developing policies to confront sea level rise, possible tidal surges during major storms, changing patterns of precipitation and temperature, and health consequences of climate driven environmental change and the local actions of community gardens, outdoor learning, local food sources will all be part of the symposium.
send questions to medmtcne@hartford.edu and/or view our program details here: http://bit.ly/Environment-March26-27